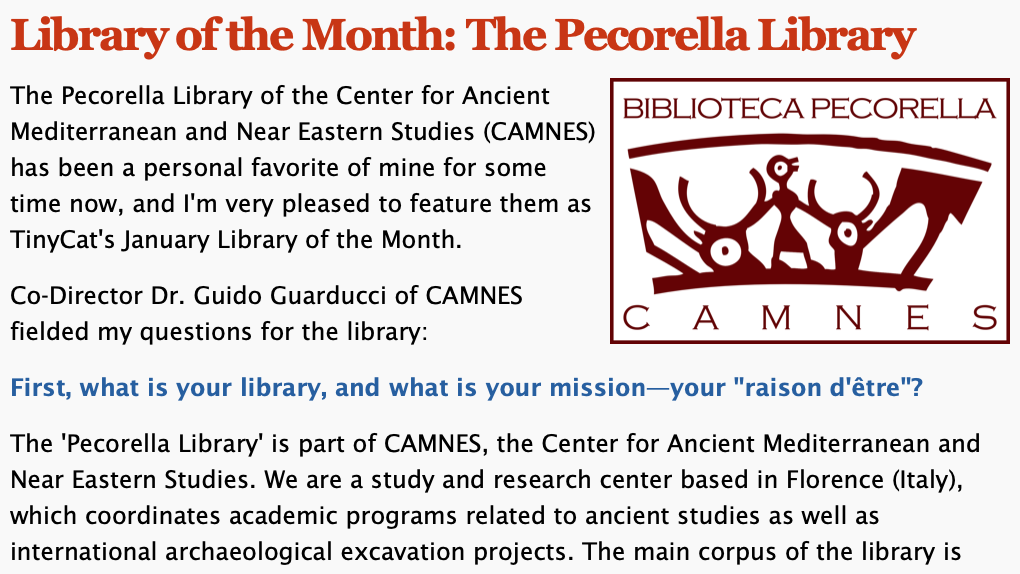 Secondo TinyCat
TinyCat Post
Greetings!
Happy New Year and welcome to the January 2019 edition of the TinyCat Post. We kick this year off with our free webinars back in session, a very interesting Library of the Month, and more. Read on.
If you'd rather receive a plain-text version, edit your email preferences. You can also read it online. Our TinyCat Post archive lives here.
Like LibraryThing on Facebook and follow @TinyCat_lib on Twitter for up-to-the-minute site news and updates.
Library of the Month: The Pecorella Library
The Pecorella Library of the Center for Ancient Mediterranean and Near Eastern Studies (CAMNES) has been a personal favorite of mine for some time now, and I'm very pleased to feature them as TinyCat's January Library of the Month.
Co-Director Dr. Guido Guarducci of CAMNES fielded my questions for the library:
First, what is your library, and what is your mission—your "raison d'être"?
The 'Pecorella Library' is part of CAMNES, the Center for Ancient Mediterranean and Near Eastern Studies. We are a study and research center based in Florence (Italy), which coordinates academic programs related to ancient studies as well as international archaeological excavation projects. The main corpus of the library is based on the private collection of Paolo Emilio Pecorella, an Italian archaeologist of the Near East and professor at the University of Florence who unfortunately died in 2005 at the archaeological site of Tell Barri, Syria. Our library is mainly focused on the history, philology and archaeology of the Mediterranean and Near Eastern cultures and is open to the public.
Tell us some interesting ways you support your community.
We offer research and bibliographical support to the Italian and international students who need further insight on archaeological publications, while scholars from Italian research institutions are also fond of our small library due to the presence of recent and rare publications in the field.
What are some of your favorite items in your collection?
We are particularly proud of very old publications of the past century, for example preliminary and final excavation reports and a good section on cylinder seals, which professor Pecorella collected in his home library and that now are available to all. Last but not least, we are also very proud of our own series SANEM (Studies on the Ancient Near East and the Mediterranean, pictured left) that was recently established—you can find them at camnes.org/publications.
What's a particular challenge you experience, as a small library?
Due to the small dimensions of the library, we are lacking professional personnel, which is certainly a difficult aspect to handle but at the same time rewarding. It is also difficult to communicate to the rest of the world of our existence since we are located within a building and not directly accessible from a street. Fortunately, scholars and students know about us but we would also like the broad public to interact with us due to our 'public archaeology' philosophy.
What's your favorite thing about TinyCat? Anything you'd love to add?
We love it! It is a very flexible and slick interface that gives you high quality service just as a large library with a dedicated OPAC. The possibility to customize certain parts is top notch! Plus the annual fee is very reasonable, especially for our status.
----------------------------------------
Want to learn more about The Pecorella Library? Check them out on TinyCat and at camnes.org.
Become TinyCat's next Library of the Month—just send us a Tweet @TinyCat_lib or email Kristi at kristi@librarything.com.
ICYMI: New LibraryThing/TinyCat Coasters
If you haven't seen these beauties yet, we recently added crisp, dual-sided LibraryThing/TinyCat coasters to the LibraryThing Store! Made of 60-pt. thick pulpboard, you can dress up your beverage of choice with the classic LibraryThing "L" logo, or the always adorable TinyCat.
Get a 4-pack of coasters for yourself or your loved ones today for just $3 (plus shipping), and let us know what you think of them on Talk.
Tip of the Month: "Ask About This" Feature
TinyCat's "Ask About This" feature allows you to give your visitors and patrons a way to ask for more information about an item within your library. You can add a custom pop-up message and include the feature as a button on Search and/or Detail pages, or just as a link on Detail pages. You can even rename the button entirely to your needs.
How it works: Visitors and patrons fill out the "Ask About This" form for any item within your library. A notification with the filled-out information will be emailed to the library admin, and from there a reply can be sent.
Some libraries have found more creative uses for "Ask About This", such as giving visitors a way to request that they be added as a patron, so the libraries can add patrons remotely.
Test it out: Go to your TinyCat Admin's Detail page Settings to customize the "Ask About This" feature. Watch our Tiny Tutorial for "Ask About This" on YouTube here, and subscribe to LibraryThing's YouTube channel for new tutorials every month.
Free TinyCat Webinars Back in Session
Our free TinyCat webinars are finally back after the holiday season. Join our next free, live webinar this Wednesday at 1pm Eastern (GMT -05:00), where you can see everything TinyCat has to offer. This is your chance to ask Kristi or Loranne any questions you have for getting started with TinyCat.
To attend the webinar, go to LibraryThing's WebEx page here.
If Wednesdays at 1pm don't work for you, please let us know, and we'll be happy to schedule a special session with you.
More TinyCat Support
In addition to our free webinars, TinyCat offers other avenues of support, tailored to how you learn best:
If you have questions for the TinyCat support team (Kristi and Loranne), email us anytime at tinycat@librarything.com.
That's all for now, folks—until next month!
—Kristi (kristi@librarything.com)