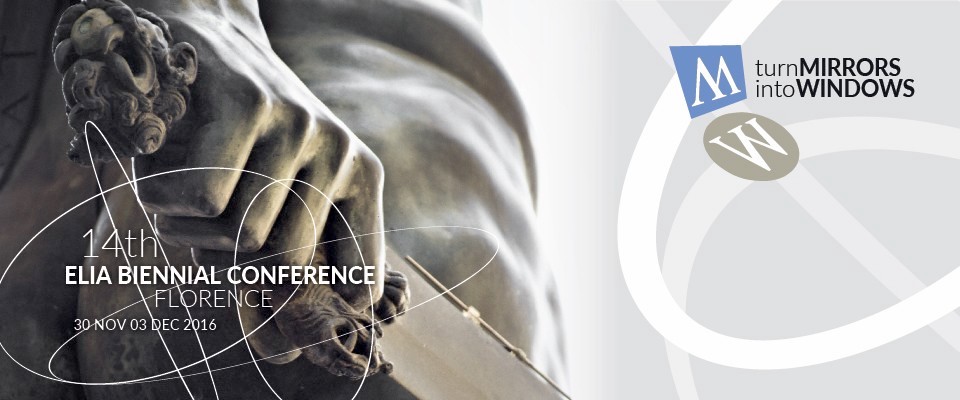 TURN MIRRORS INTO WINDOWS - Meet the Etruscans: Art and Archeology at Istituto Lorenzo de' Medici with CAMNES
THE CONFERENCE
---

TURN MIRRORS INTO WINDOWS | 30 November - 3 December 2016 Florence, Italy
Registration Open Now!
ELIA is delighted to announce the 14th ELIA Biennial Conference Turn Mirrors Into Windows, that will take place 30 November-3 December 2016 in Florence, Italy. Host of this years' biennial is Palazzo Spinelli, in partnerschip with many other arts and higher arts education institutions of the city.

The ELIA Biennial Conference is the largest conference on higher arts education worldwide, drawing an audience of approximately 500 directors, artists, lecturers and thinkers.

This year's theme: TURN MIRRORS INTO WINDOWS
Europe has transformed almost beyond recognition over the past years. Thanks to technological evolution, globalisation and open border policies, we find ourselves working and living in close connection to the rest of the world. At the same time Europe's self-conception as a place of tolerance, inclusion and prosperity is increasingly challenged by complex issues such as large migration processes, an ageing population, emerging radicalism and shifting economic powers.

The programme provides a platform to discuss the questions that are raised by these developments and to consider the role we as artists, arts educators and arts education institutions have in the creation of tomorrow's society. In addition to plenary discussions, research presentations, best practices, networking events, mobile workshops in the city and much more, high profile keynote speakers such as multiple award winning social designer and artist Daan Roosegaarde will initate the debate. Florence, as a beacon of European cultural heritage and with its turbulent political and artistic history, is the ideal city to have this conversation.
THE EVENT
---
Istituto Lorenzo de' Medici - The Italian International Institute
and CAMNES
"Meet the Etruscans: Art and Archeology at Istituto Lorenzo de' Medici"
Participants will be welcomed to the Church of San Jacobo in Campo Corbolini at Istituto Lorenzo de' Medici for a one-of-a-kind meeting on art, education, and archeology.
The visit will begin with a presentation of Istituto Lorenzo de' Medici, covering its history, facilities, and educational opportunities, including the archeology program in collaboration with the Center for Ancient Mediterranean and Near Eastern Studies (CAMNES). Following the discussion of education, attendees will have the unique opportunity to view Etruscan artifacts excavated from the archeological digs of Tuscania, a historic hilltop town located in the breathtaking countryside of Latium-Region. The artifacts were recovered with the aid of LdM faculty and students and are distinctive to the history of the region, not existing outside of Italy.